LIFE
2022 New Year's Greeting
22-01-03
본문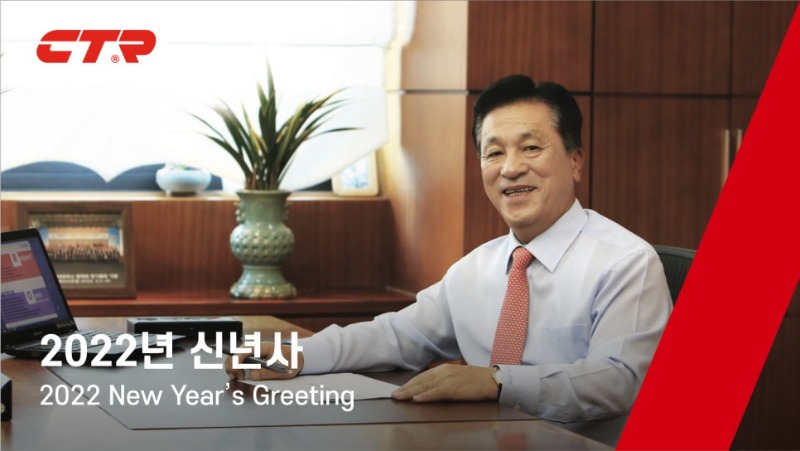 Dear everyone at CTR,

2022 has arrived. I wish you all a happy new year.
The past two years have been a painful time for not just us but everyone around the globe,
and our daily lives have been swept by major changes.
Thankfully we were able to come together to not just weather through these tough times
but also prepare diligently for the future. I would like to thank everyone for this.
CTR Group, which greets its 70th anniversary this year,
is standing at a critical crossroads that will determine whether the company will reach 100 years.
We plan to make our OEM business more efficient and smarter, our AM business wider and larger,
and new mobility business investment swifter than before.
To do so, we will meet the demands of today while we stand by the "principles" we pursue.

1. Management Philosophy

We will continue to create a workplace where employees feel safe.
We also ask you to join the effort to spread our value of SAFETY to our clients and society.

2. Core Values

Challenge, Teamwork, Respect. Each one of these must be upheld by the company and employees,
and we each must put our own effort to understand and guard them.
The company's HR system, policies, and the way we work including DT will change toward strengthening our Core Values.

3. ESG Management (Environment / Society / Governance)

Our company has stayed relatively ahead in recognizing the importance of ESG and has prepared accordingly.,
ESG is not only necessary to meet the demands of our clients and society,
but also to "sustain a business" and "fulfill the company's social responsibilities".
This year we will accelerate our ESG management.
In Asia, 2022 is the year of the black tiger.
Just like the loud roar of a tiger, let's all cheer loud and strong for a successful year.
I wish you and your family a healthy and happy new year.
Thank you.
Jan 3, 2022
CTR GROUP Chairman Taeryong Kang