GLOBAL MEDIA
CTR's strategy and new technology
22-05-31
본문
Hello Everyone, This is Banny Ban, the leader of CTR's oversea design team. 
When customers need parts being aligned with their requirement of dimensions, strength, fatigue and other functions. We design parts meeting customers' demands selecting material, shape, process for purpose. 
That is our team's role and job.
CTR's strategy and New technology 
Today I would like to present CTR's strategy and New technology on parts. 
our goals of our parts are to always achieve better performance, lighter weight and lower cost so that we finally contribute to OEM's ESG running. Ok let's see first one, our key products Cross axis ball joint, stabi.link ,ball joint and control arm as mass production, we have introduced injection technology to them accomplishing our goals. Globally and World widely these parts have been used and providing OEMs with their great satisfactions. 
if our valuable customers are interested in our one, Pls try and test these outstanding parts.
Advanced development parts
Next one is the advanced development parts. as you general man knows well, 
With the weight increase of battery in Electric Vehicles, Environment regulation and CO2 reduction demand,
Lighter weight in markets becomes much more important nowdays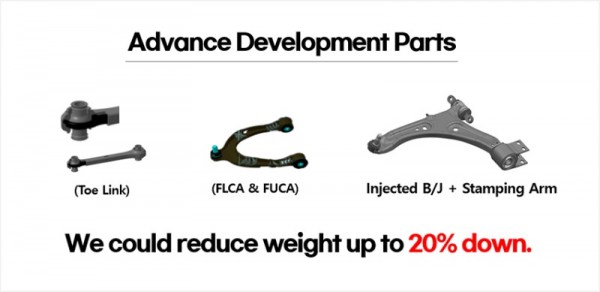 So we have been putting our efforts and resources on them continuously for going up to the next level meeting OEM's these new demands and trends. 
One of them is Hybrid arms of Toe link, Lower and upper that is the combination of metal sheet+ engineering plastic. With this new technology we could reduce weight up to 20% down. 
Rotational Mcpherson
And we strongly suggest the another type of Pseudo Mcpherson suspension type called rotational Mcpherson.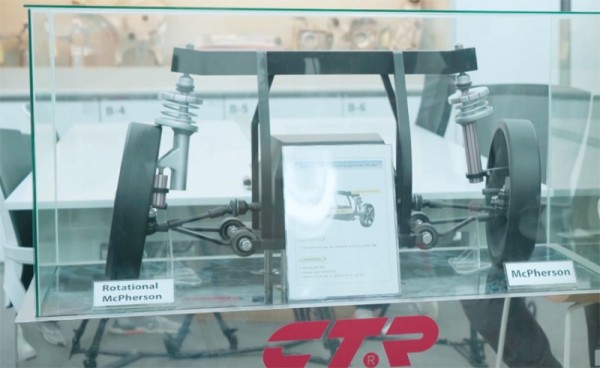 For this. half car test, 21 channel test in lab and even PG driving tests and durability tests have been validated successfully so we could reduce rack force up to 66% which is good for vehicles. Specially, Heavy Electric Vehicles and this new pseudo system has various strong points such as small package, low torque steering, low steering resistance and low cost. Any interesting. we welcome for our new technology.
In addition, machining capability of suspension and Engine/Brake parts are available as well. 
Are you looking for the supplier for low cost, high performance and light weight ?
if yes, Pleas find us.
or you need autoparts but you don't know what specification is required.
if belongs to this case , We, CTR provides solutions. 
Thank you for listening. 
Banny Ban.
[이 게시물은 뉴스레터님에 의해 2022-05-31 11:59:06 [국문]글로벌 미디어에서 복사 됨]